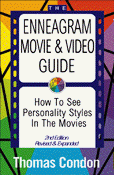 The Enneagram Movie & Video Guide-
Fours
---

From the Introduction

Chapter: Threes

Fours

Fives

Sevens

Eights

Back To Enneagram Primer


Go to The Enneagram Movie & Video Guide
---
Fours

FAMOUS REAL-LIFE FOURS
Photographer Diane Arbus, Painter Francis Bacon, John Barrymore, Charles Baudelaire, Ingmar Bergman, Poet John Berryman, Director Peter Bogdanovich, Marlon Brando, Richard Brautigan, Jackson Browne, Raymond Burr, Singer Kate Bush, Mary Chapin Carpenter, Prince Charles, Kurt Cobain, Leonard Cohen, Judy Collins, James Dean, Robert De Niro, Johnny Depp, Neil Diamond, Isak Dinesen, Novelist Michael Dorris, French novelist Marguerite Duras, the music of Pink Floyd, the cultural aura of France, Judy Garland, Martha Graham, Singer Nanci Griffith, Billie Holliday, Julio Iglesias,
Michael Jackson, Janis Joplin, Naomi Judd, Harvey Keitel, Jack Kerouac, Jessica Lange, Poet Philip Larkin, Charles Laughton, T. E. Lawrence, John Malkovich, Marcello Mastroianni, Author Mary McCarthy, Carson McCullers, Rod McKuen, Thomas Merton, Author Yukio Mishima, Joni Mitchell, Jim Morrison, Morrissey, Edvard Munch, Liam Neeson, Mike Nichols, Stevie Nicks, Author Anaïs Nin, Nick Nolte, Laurence Olivier, Edith Piaf, Sylvia Plath, Edgar Allen Poe, Novelist Anne Rice, Arthur Rimbaud,
Françoise Sagan, Poet Anne Sexton, Percy Shelley, Simone Signoret, Playright Neil Simon, Singer Paul Simon, Edna St. Vincent Millay, August Strindberg, Singer James Taylor, Spencer Tracy, Liv Ullmann, Vincent Van Gogh, Suzanne Vega, Author Robert James Waller, Alan Watts, Orson Welles, Australian novelist Patrick White, Elie Wiesel, Tennessee Williams, Virginia Woolf, Neil Young.

INTRODUCTION
Like Ones, Fours compare reality with what could be. While a One will look for imperfection about them and maybe have a desire to correct what's wrong, Fours often turn away from reality and live in their imaginations, feelings and moods.
Along with Twos and Threes, Fours share the tendency towards vanity and image-confusion but they can express it paradoxically. Fours are more likely to identify with an image of defect especially as it confers on them a quality of uniqueness or exempt specialness. A Four might, for instance, bemoan their inadequacy to succeed in the everyday world, but within this complaint there could be a subtle quality of boasting. This is usually driven by a self-image that is romantically tragic but also elitist. They may take pride in what is unique or defectively unusual about them.
Because of the strength of their emotional imaginations, people with this style are often described as artists. Many of the world's most accomplished artists have been Fours and nearly all people with this style need or find creative outlets. Otherwise, Fours work in all kinds of occupations, although they will try when possible to make their work creatively interesting.
Awakened Fours tend to be idealistic, have good taste and are great appreciators of beauty. They filter reality through a rich, subtle subjectivity and are very good at "metaphorical thinking," the capacity to make connections between unrelated facts and events. The Four tendency to see things symbolically is enhanced by their emotional intensity. This creates raw artistic material that almost has to be given form. Self-expression and the pursuit of self-knowledge are high priorities for people with this style.
Fours value the aesthetics of beauty as much as they are attuned to the tragic nature of existence. When healthy, people with this style work to transmute the pain of living into something more meaningful. This can be done through creative work of all kinds. Fours are excellent at articulating subjective experience, and can be fine teachers and psychotherapists in this regard. They may also be empathetic friends, able to take in and understand the dilemmas of others and especially be willing to listen to a friend's pain.
When more defensive or entranced, Fours begin to focus on what is unavailable or missing in their lives. They can become negative and critical, finding fault with what they do have, seeing mainly misery in the present. They then turn inward and use their imaginations to romanticize other times and places. Fours can live in the past, the future - anywhere that seems more appealing than here. "The grass is always greener on the other side." Entranced Fours fall into a habit of envy for whatever it is they don't have now.
The need to be seen as someone special and unique may become more neurotically pronounced too. Fours can seem very in touch with their feelings but their defensive tendency is to translate authentic feeling into melodrama. They could be full of lament and nostalgia, demanding recognition yet rejecting anything good they get from friends. They might also grow competitive and spiteful, unable to enjoy their own successes without taking away from the achievements of others.
An entranced Four could be moody or hypersensitive while beginning to act exempt from everyday rules. Buoyed by their sense of defective specialness, they might give themselves permission to act badly, be selfish or irresponsible. They may refuse to deal with the mundane and the ordinary, reasoning that they are different and not of this world anyway. Entranced Fours incline towards feeling guilty, ashamed, melancholy, jealous and unworthy.
Deeply entranced Fours can inhabit a harrowing world of torment. They may be openly masochistic and extravagant in their self-debasement. The lives of spectacularly self-destructive artists often reflect this kind of scenario.
At this point, a Four could become unreachably alienated. Stricken by a profound sense of hopelessness, they can sink into morbid self-loathing and suicidal depression. Their "differentness" is now seen in entirely negative terms and they banish themselves into a kind of exile. The desire to punish themselves and others is also quite strong.
Fours have a specific defense that comes up a lot in movies, especially love stories. It's called "introjection," and it means carrying someone around inside of you in your imagination and feelings. A Four will introject a loved one, usually someone idealized and out of reach. Their beloved is romanticized from afar but the Four feels the absent person to be present. They then have a kind of relationship with their fantasy of the other person.

FOURS IN THE MOVIES
Unlike Three performers, who play themselves in movies, real-life Fours mostly play Enneagram styles other than their own. Performers with this style are almost always considered character actors and actresses.
A list of Four performers includes some very creative people from movies past and present: John Barrymore, Charles Laughton, Spencer Tracy, Laurence Olivier, Marlon Brando, James Dean, Liv Ullmann, Simone Signoret, Robert De Niro, Harvey Keitel, Nick Nolte, John Malkovich. All of these performers are capable of movie star roles but they generally are somewhat different from film to film.
Note the above list is almost all male - I'm sure there are more Four female actresses but for some reason I didn't find that many. Some who are known for Fourish roles - Meryl Streep for instance - have other Enneagram styles in real life.
Younger Four performers tend to play the style a little more often, usually in roles as misunderstood teenagers. The condition of feeling different, lonely, self-conscious and tormented, is well represented by performers like James Dean (Rebel Without A Cause) and Winona Ryder (Beetlejuice, Mermaids).
Another kind of movie story that strongly favors Fours is about unrequited love. Usually the Four is the lover-from-afar (Blume In Love, Out Of Africa, New York Stories) but sometimes the roles are reversed. In movies like From Noon Til Three, Cherry 2000 and The French Lieutenant's Woman, the Four is loved from afar by someone else. Usually the Four doesn't notice because they are too self-absorbed or preoccupied with someone else that they are in love with from afar.
The other noteworthy type of role that especially applies to Fours is that of the Melancholy Monster. Stories like The Phantom Of The Opera, Cyrano de Bergerac and The Hunchback Of Notre Dame are exactly about Four psychology. The deformed hero is driven to hide his true feelings because of shame over his disfigurement. He's a pure-hearted romantic under the defect but unable to expose his real feelings or function normally. Note that these stories are from France, a very Fourish culture.
Other examples include lovesick vampires (Bram Stoker's Dracula) and the occasional mutant (Danny DeVito, Batman Returns). Anjelica Huston does a comic reversal of this motif as Morticia in Addams Family Values; she's deeply weird but believes she's normal.
The most obvious type of Four role, of course, is of the artist. These range from the tormented to the struggling to the fulfilled. The list includes: F. Murray Abraham, Amadeus; Anne Bancroft, The Turning Point; John Barrymore, Dinner At Eight; Judy Davis, Impromptu; Tom Hanks, Punchline; Maria de Medeiros, Henry And June; Jack Nicholson, Five Easy Pieces; Nick Nolte, New York Stories.
Fours and Sevens conflict a lot in the movies that follow. For a movie where they get along see Addams Family Values.

MOVIE REVIEWS
Amadeus
This film contrasts the lives of classical composers Salieri and Mozart. Mozart is played as a Sevenish jerk and Salieri keeps asking the Big Philosophical Question: "How could God let such a jerk be so talented?" But it's not a philosophical question at all; Sevens are often gifted and Salieri is a competitive Four being eaten by envy ("I admit I was jealous when I first heard the tales of him").
The latter's monologues, well spoken by F. Murray Abraham, have an almost oral craving behind them, as if Salieri can taste what it would be like to have Mozart's talent: "Mozart's music filled me with such longing that I thought it was the voice of God. All I ever wanted was to sing to God but he made me mute. Why plant the longing in my heart and then deny me the talent?"
Abraham captures the preening "I-am-special" quality of the Four style as well as a certain whinyness. His Salieri is a Four with a 3 wing; vanity and envy both motivate him. He is also an intimate subtype, with an especially strong tendency towards competition in relationships. The entire film is about his drive to measure up to Mozart.
The film is sumptuously shot and the music is great. It goes hollow dramatically, I think, because Salieri's conflict with Mozart is neurotic rather than philosophical. The latter is one-dimensional throughout, though Tom Hulce is good in the underwritten role. He plays Mozart as a Seven with bad social skills and worse impulse control.
Mozart's father is a One and the Emperor (Jeffrey Jones) is a Nine.
Blume In Love
Not very funny marital comedy told in flashback by ex-husband George Segal, a Four. His ex-wife is a Nine (Susan Anspach), notable for her ambivalent, receptive nature and physical beauty. Segal carries her around inside him (introjection) and projects romantic longing onto her indistinct soul ("I'm in love with her - that's my tragedy"). Segal continually plots to remarry Anspach, never mind that his memories of being together are mixed at best.
The less interested she is in remarriage, the more attracted he is. He can't live with her or without her, but he's mostly self-involved. He's in the trance of his obsession about her. The film has a ghastly rape scene that is nevertheless telling about his obsession and her passivity.
Look for a young Kris Kristofferson as a mellow hippie Seven.

Cherry 2000
So let's say you're driving and your car collides with a peach truck but only your critical faculties are damaged. During your recovery you could do worse than to rent this goofy, well-made B-Grade movie. It takes place in a bizarre but believable future and boasts some spectacular stunts. While not strong on characterization it has a funny plotline driven by the lead character's Fourishness.
Cherry 2000 is the name of a lifelike robot wife owned by Sam Treadwell (David Andrews). When an accident during sex on the kitchen floor disables her body, Sam recovers her computer memory and goes searching for a robot copy to plug the chip into. Turns out they don't make Cherrys anymore, so Sam must venture into the lawless Forbidden Zone where a stash of robot bodies is rumored to be stored. He hires lady tracker Melanie Griffith (pretty good here) to guide him through the Zone to his beloved Cherry.
"There was tenderness, a dream-like quality about her ... you wouldn't understand," he tells Griffith. She hassles him throughout about being in love with a robot and as they grow closer, part of the suspense is whether he will cling to his Fourish dream of Cherry or wake up to the reality of his feelings for Griffith. Andrews keeps the sullen faraway persona of a Four throughout the film and has several good moments. At one point, fearing he may have lost Cherry's memory chip, he laments, "Her whole personality is on that chip! If we find a body now it would be just like finding a toaster!" The joke is that Cherry's personality is that of a bimbo, anyway. She talked to him in an adoring, vacant way and he romanticized the rest.
Melanie Griffith probably plays a Nine with an 8 wing though she's a Two in real life. Ben Johnson is on hand as a Nine desert prospector. Tim Thomerson is very funny as the leader of a paramilitary New Age community. A Seven with an 8 wing, he has lines like, "Hunt them down and kill them! And remember, men, be yourselves."

Cries And Whispers
A visit to Four Hell. This film from director Ingmar Bergman - at his most depressive - focuses on sisters in a Swedish household. Two out of three of them are Fours and their mother was too. This movie probes Fourish pain at its core and reveals something almost beautiful. It is, however, heavy going and intensely morbid. The household's interiors are almost entirely white and bloodred - intrauterine colors that make the story seem staged within a womb.
Harriet Andersson plays the dying sister who's full of reminiscence of early abandonment - "I always felt frightened and left out. I was the only one who couldn't join in the merriment. Mother has been in my thoughts every day even though she's been dead for 20 years. I remember that I used to spy on her without really meaning to because I loved her to such a jealous extreme. I wish I could see her again to tell her of what I understand of her longing and impatience." Harriet's soul is so fitful that after she dies her corpse comes back to life and continues pleading to be loved.
Liv Ullmann has a double role as the middle sister and as the Four mother. The sister is a Nine in denial ("I haven't any need of being burdened") who's married to a Fourish man who appears briefly before killing himself.
Then there's older sister Ingrid Thulin, an even more depressed Four (5 wing) married to an intolerant, insufferable One. Bergman often places nasty male Ones in his movies; they are invariably hostile to his sensitive Four heroes and heroines. The masochistic Thulin has a kind of breakdown: "Can you conceive how anybody can live with so much hate as has been my burden? There's no relief, no charity, no help, no nothing." In the background clocks are ticking while ghostly windswept howls echo down the empty halls.
The Fourth Man
Director Paul Verhoeven is very good at action films (Total Recall, Robocop). Earlier in his career he directed a warm-up to his Basic Instinct (see "Threes") called The Fourth Man. It's another morbid yarn about a woman under suspicion of murder.
Jeroen Krabbe plays a famous Four writer who gets involved with Two admirer Renee Soutendijk, a woman who keeps outliving her husbands. Krabbe's a self-indulgent fellow prone to bombastic statements about how artistic fantasy is the only reality. Well, he can't keep reality straight and the more he learns about Renee's past relationships, the more he fantasizes about what she might do to him. He eventually cracks up and is hospitalized.
The film gives Renee a hypnotic sexual allure and adds a sense of unstable menace so that we wait for her predatory homicidal instincts to suddenly emerge and lunge at Krabbe.
Except they never do. Unless I missed a scene while searching for a pencil, Renee hasn't done anything except marry three guys who died in accidents. She's a femme fatale who's not fatale. She has a 3 wing, is kind of vain, a little kinky, runs a glitzy hair salon, has flashes of ill-temper (low side of 8) but at bottom she's actually kind of nice. No matter, the film continues to blame her for Krabbe's collapse, as though she's a serial killer. At least she isn't gay ...
Verhoeven even ends the movie with lengthy close-ups of a female spider devouring her mate. Therapy could really help with something like this but I don't know what it would do to a film career.

The French Lieutenant's Woman, Out Of Africa
Every once in a while you come across a film character who so captures an Enneagram style that everything she says and does reveals it. So it is with the French Lieutenant's Woman (Meryl Streep), a character so chronically Fourish that the film's other characters take to psychoanalyzing the roots of her melancholy. She has, they conclude, "obscure melancholia," the kind which can't be explained, and observe that "it's as if her torture has become a true state of delight."
This film, heavily adapted by Harold Pinter from John Fowles's novel, interweaves two stories, one about a suffering Victorian governess and a Fiveish scholar (Jeremy Irons) and the other about the modern actors (Streep and Irons, again) who are portraying the Victorian couple in a film. The modern couple are probably both Threes; they are empty, hard-edged and engaged in a web of deceit. Their mutual vanity is contrasted with the more complex, passionate historical characters that they play.
The Victorian Streep first appears to Irons as a figure on a sea wall, staring into the stormy distance, alone, her face pale as wax. He gets intrigued by her and grows gradually attracted to comforting her in her melancholy. Here is a sampling of some of her more Fourish statements to him:
"I am nothing. I am hardly human anymore. I married shame; I am not truly like other women."
"You cannot imagine my suffering. I'm only at peace when asleep. When I wake the nightmare begins."
"I was lost from the moment I saw you. I have long imagined a day like this. I have longed for it."
"Now that I know that there was truly a day upon which you have loved me, I can bear anything. You have given me the strength to live."
Irons breaks off his engagement to another and finally makes himself available and committed to Streep. Guess what happens? Streep vanishes and Irons spends the rest of the film tracking her down. When he finds her she has grown some, and looking back on the past she says: "There was a madness in me, an envy. I suddenly realized that I must destroy what I love. It has taken me this time to find my own life."
This is a good film anyway, but it's highly recommended for Enneagram studies. Streep's character has a strong 5 wing and is a social subtype for the way she riddles herself with shame. The old woman she works for is a One.
Shortly after The French Lieutenant's Woman, Meryl Streep again starred as a Four in Out Of Africa. She plays Danish writer Karen Blixen (pen name Isak Dinesen). Now old, she's looking back on her years in Africa when she ran a coffee plantation and loved the unattainable Denys Finch-Hatton (Robert Redford). Her reminiscence is tinged with loss and melancholy and the film takes her romantic point of view.
Streep's character holds our sympathy but she's quite a sourpuss. She wears a pinched, disappointed look throughout the film and says things like, "When the gods want to punish you they answer your prayers," or, "I think God had a hand in it. He gave me my best crop and then He burned down the plantation."
This theme of finding endless loss and unfulfillment is mainly evident in her romantic attachments. Her husband Klaus Maria Brandauer is a feckless, adulterous Seven, while Redford is escapist and noncommittal and also a Seven.
The story shows how Fours and Sevens can be both clashing and complementary styles. Both have a lot of imagination and tend to heighten mundane reality, Fours to enrich it and Sevens to escape it. When Streep and Redford first get together their favorite activity is to make up stories. Redford starts them and Streep embellishes. She's serious, he's light, she's morose, he cheers her up. "In the days and hours when Denys was home we spoke of nothing ordinary or small," she says.
That's probably the problem. Redford dances away from small, ordinary daily life with Streep. She complains chronically and has envy for his presence whenever he's gone. If Redford stayed around, though, chances are she'd find fault with him in other ways. She might notice hairs on his toothbrush or see his mottled skin close up.
Sevens sometimes fear this from Fours. The latter's capacity for lament can feel like a prison to a Seven. The Seven may want to keep life cheery and falsely upbeat while a Four can get locked into a sense of lack. The result is clashing defenses. If the Seven is escapist they may feel pulled down by the Four's negativity and irresponsibly dart off towards new options. In this film Redford has a plane and flies away into wild country whenever things get sticky with Streep.
The couple's arguments about commitment are supposed to typify conflicts between men and women but they're potentially typical for a Seven and a Four. In response to Streep's complaints about his lack of commitment, Redford delivers lines like:
"I won't love you more because of a piece of paper."
"I'm with you because I choose to be with you."
"I'll mate for life - one day at a time."
Both generous and noncommittal, Redford is described as someone who likes to give presents, but not at Christmas.
This movie is like a big, pretty coffee-table book; subjects like African race relations never sully its gloss. Streep, however, is superb and the film's Fourish tone is sustained to the point where it's eventually irresistible. Redford is stiff and awkward as if uncertain whether he's playing a man or an icon. He's a very Fiveish actor, so he gives his Seven role a stingy, solitary aura. Michael Kitchen, the villa owner from Enchanted April, plays another Nine here.
Streep played another Four with a 5 wing in the dull film Plenty. She's a real-life One so she's playing her connecting point in these movies.

From Noon Til Three
The same dynamic again. Charles Bronson and the late Jill Ireland star in a dark comedy-western that satirizes romance, commercialism and media mythmaking. Since it's hard to find in video stores, I'm going to tell you more of the story than usual. It plays very well as a cautionary tale about the excesses of Fourishness, but it also seems as if it might have been written by a Seven. ¿Ë<<Èä/,e
Ireland's character is a permanently nostalgic Four, a widow whose late husband's clothes are still laid out on the bed the way they were the day he died. This is introjection again - carrying someone absent around inside you.
Bronson is a cowardly Seven bank robber who briefly hides out at her house, misrepresenting himself as a suave outlaw. For three hours he and Ireland have a romantic interlude before a posse comes and Bronson flees. Ireland takes him for dead and writes a romantic book called From Noon Til Three about their three glorious hours together. The book becomes an international best-seller, enthralling a vast audience with Ireland's gauzy distortions of Bronson's character and motives. It's a drippingly Fourish story of love tragically lost.
Myth so overtakes reality that when Bronson eventually returns, Ireland refuses to recognize him (the man in the book was six feet tall and amazingly handsome). The book has become so popular that there are now tours of Ireland's house, so that people can see where the great romance took place. There's a spinoff play based on the book and a hit song everyone is singing. Bronson even pays a dollar to visit his own grave.
Being a somewhat hedonistic Seven, Bronson simply wants to pick up with Ireland where they left off, but each time he tries to remind her of something that happened between them, she says, "You got that from the book!"
When Ireland does finally realize it's him (he drops his pants and shows her a scar), she offers him money to disappear again, citing the potential disappointment of her readers at his still being alive. In true Fourish style, she makes it clear that she would rather die than allow reality to undo her embellished memory of their brief romance. When Bronson threatens to go public about still being alive, hoping it will shake her awake, she instead shoots herself dead. Her fans later interpret the suicide as a desperate act of melancholy over Bronson's earlier death ...
Stunned and disoriented, Bronson spends much of the rest of the film running around trying to convince everyone he formerly knew that he is still alive. No one believes him because he doesn't resemble the character in the book. Finally he lands in an asylum where the inmates are quite willing to believe he's the famous outlaw. In fact, Bronson's roommate is Abraham Lincoln and Napoleon lives there too.
This is an audacious little film that is worth searching for. Bronson shows an unexpected flair for light comedy and makes fun of his flinty tough-guy persona. The movie flopped with his fans.

THE TWO HAMLETS
OK, lovers of paradox: our subject is Hamlet as portrayed in two films - Laurence Olivier's 1948 version and the more recent Franco Zeffirelli film featuring Mel Gibson in the title role.
What's paradoxical? In the two films, Hamlet is portrayed as two different Enneagram styles. Olivier plays him as a Four and Mel Gibson as a counterphobic Six. The same play, the same lines, but two totally different emotional cores.
This just happens to correspond with Don Riso's and Helen Palmer's respective assessments in their books, Personality Types and The Enneagram. Shakespeare scholars I've polled would support Riso and fault Mel Gibson for getting Hamlet wrong. A further wrinkle is that Olivier was a Four in real life while nervous, loyal family man Gibson is a counterphobic Six. Gibson plays Sixes very well; his character in the Lethal Weapon movies is a near psychotic rendition of the same energy he brings to Hamlet.

Hamlet, 1948.
"There's something in his soul on which his melancholy does brood." The traditional interpretation of Hamlet is as "the melancholy Dane," and Laurence Olivier plays him as moody, sullen and depressive.
This is Hamlet without the nerves - he lacks the basic terror that a Six would harbor. He's bitter and whiny, both tender-voiced and tragic-minded. His desire to slay the King (who killed his father) seems more a glum revenge for being abandoned than the issue of justice it would be for a Six. Olivier also adds a touch of vanity ("I am very proud ... ambitious"), making Hamlet a bit of a snob, afloat in an air of his own specialness.
Like Wuthering Heights, this black-and-white film is framed in brooding shadows and contains almost no humor. Hamlet as a Four is strangely more sympathetic than Hamlet as a Six. His dilemma is supported by the dark, romantic way the film is shot. Melancholy is made to be a tragic condition of existence rather than a function of personal neurosis. This aura of cosmic loss obscures the fact that, psychologically speaking, Hamlet is a Momma's Boy stalling at the gate of adulthood. (Turn to Hamlet under "Sixes.")

Impromptu
Bright, freewheeling comedy-drama about writer George Sand (Judy Davis) and her gallery of artist friends, including the composers Liszt and Chopin. Film affectionately spoofs their artistic temperaments, portraying them as a group of spoiled, passionate babies. They're a different species, not a better one.
This is especially evident during a stay in the country at the estate of a dim, well-meaning patron (Emma Thompson, hilarious as a Two). The cheeky, self-absorbed artists bicker and clash and bite Thompson's hand for trying to feed them. Their disdain for her money and her slowness at realizing their insults are very funny.
Chaos swirls around Davis as several people are in love with her even as she fancies Chopin (Hugh Grant) from afar. "She makes a great hash of her life but she's got a good heart," her publisher observes. A Four with a 3 wing, Davis is flamboyant, melodramatic and competitive but likable all the same. She burns with energy and is willing to put her life on the line for her ideals.
Chopin is a shy consumptive Five (4 wing) and it's a good portrait too. He spends much of the movie socially stricken and horrified by the brash, forward Davis. He fends her off, claiming that he is too ill and has too little energy to get involved with her. This is typical of how Fives think when defensive - they try to parse out their energy and emotional availability, measuring what each encounter will cost them. George Coraface plays one of Davis's ex-lovers, a jealous, volatile Two. evels, knowledge of the Enne

I've Heard The Mermaids Singing
Distaff Walter Mitty story follows a young aspiring photographer who keeps a video diary that we the audience see. She lands some temporary office work in an art gallery and punctuates her daily life with surreal daydreams of what she would do if she were brave. She's a meek Six (5 wing), played by Sheila McCarthy, and the film focuses mainly on her heroine worship of the gallery's curator (Paule Baillargeon), a glamorous, melancholy Four. The slight storyline tracks McCarthy's attraction and eventual disillusionment with the curator onto whom McCarthy has projected most of her own potential.
"I just loved how she talked and wanted her to teach me everything." McCarthy is first seen as socially graceless, not whiny, but nervous, gawky and young.
The curator, by contrast, is a skilled, poised fashion plate ("She was like a fairy tale"). She has a Four's appreciation of the art she sells and a 3 wing that lends administrative and public relations capacities. What she lacks, according to her, is true artistic talent. She asks McCarthy: "Do you know what it's like to want one thing all your life and know all your life that you'll never have it? A simple gift ... to make something beautiful is to be beautiful forever." At another point, when asked, "What do you want from life?" Baillargeon replies, "Universal respect, eternal youth, passion that never abates. I'd like to never get neurotic about growing old and some day make something breathtakingly beautiful that lasts forever and all time." (Nostalgia isn't what it used to be.)
When friends wish the curator well on her birthday, she asks, "Why do people insist on reminding me that I'm dying?" These sort of remarks are spoken with a quality of unreachable sadness and the heightened vanity in them is related to the curator's 3 wing.
McCarthy sets about trying to rescue the curator from her sadness, usually a mistaken thing to try with Fours. She also gives the curator her power; when Baillargeon unwittingly criticizes a few of McCarthy's photographs, the latter goes home and burns her own work. It's inevitable that McCarthy's heroine will disappoint her, and the film's one plot surprise hinges on the curator's 3 wing. When the moment arrives, McCarthy says, "But I believed you!" and lashes out violently. At film's end, some of McCarthy's power is being handed back to her through a small turn of events: Baillargeon comes to her house to apologize.
Several things are worthwhile about this film, but it's not all that good. McCarthy's character is made to be blandly likable as if inoffensiveness were a character strength. The film is coy and fey and more enchanted with itself than it should be. Still, the Sixish heroine worship is well captured and Baillargeon is quite an instructive Four. Sixes and Fours often befriend or marry each other in real life.

Moonstruck
Whimsical comedy about Italian American family dynamics and the uproar that's caused when Cher falls abruptly in love with her fiancé's brother. The brother, played by Nicolas Cage, is a Four, and throughout the film he makes hilarious, tormented speeches that are right in keeping with the style. One speech begins, "It's just a matter of time before a man opens up his eyes and gives up his dream, his one dream of happiness!"
When Cher initially balks at getting involved with him because "love ruins everything," Cage replies, "We are here to ruin ourselves, to love the wrong person, to break our own hearts!"
Cage, a bread baker who loves opera, lost a hand years earlier in an accident. He blames his brother for the loss and his sense of tragic deformity ("I have no life, my brother took my life"). When it's pointed out to Cage that, in truth, his brother had nothing to do with the accident, Cage yells, "What am I? A monument to justice? I don't care that it's not his fault! I blame him anyway!" Cage is a self-preservation subtype, a "dauntless" Four who advocates risk.

New York Stories
This trilogy of short films is a mixed bag. The first and best features Nick Nolte as a successful Four artist obsessed with a female assistant (Rosanna Arquette) who has gradually grown to hate him. The film shows again how a Four can abstract another person and relate to the idea of that person while ignoring them in reality; "I just wanted to kiss your foot," he tells her, "Sorry, it's nothing personal."
Nolte spends most of the time with a faraway, entranced look even when he's focused on Arquette. He has an upcoming art show and partly he uses the relationship to stir creative friction. As Arquette repeatedly rejects him, he throws himself into ever more splendid painting. External reality exists mainly to stimulate his inner creative drama. At a party in his honor, he ignores all the praise and, instead, worries about whom Arquette is talking to across the room. In the end when she leaves, he simply transfers the obsession to someone else.
Nolte has both 3 and 5 wings. He's competitive in relationship and solitary in work. His fixation on Arquette reflects a Four's connection to the low side of 1; it's as if he's pursuing a Big Idea that will save him. He's also critical like a 1. The other obvious connection is to the low side of 2 - Nolte's obsession is about dependency. He doesn't want to be left by Arquette and grasps at her like a man drowning. Nolte's a real-life Four, so this is Enneatype casting.
The third short film is by Woody Allen who plays his usual phobic Six character. Julie Kavner is a Nine, and Allen's mother a Two.

The Turning Point
Anne Bancroft and Shirley MacLaine star in what used to be called a "woman's picture." This 1977 movie is more like a 1940s soap opera about two friends who chose different life courses and now have regrets. Bancroft is a ballet diva Four who envies MacLaine's sedate domestic life - "If I were a man I could have had all the children I wanted and still danced." MacLaine's a mild Eight who's still bitter about giving up ballet and blames Bancroft.
Latter has a long list of Fourish complaints: she's growing old, can't dance as well, has ugly feet, never got married, never had children, etc. She's quite likable though and, despite a competitive streak (3 wing), she's honorable, accomplished and caring, a fairly healthy Four.
The story is enjoyably corny and well acted. The two angry friends finally have it out in a wild, funny scene. Tom Skerritt plays his usual persona, that of a Nine. Leslie Browne plays his daughter, also as a Nine. Martha Scott, the ballet's aristocratic director, is a One with a 2 wing. Anthony Zerbe pops up as an old flame of MacLaine's and he's a Seven.

OTHER MOVIE FOURS
John Barrymore, Dinner At Eight; Juliette Binoche, Damage; Ray Bolger (The Tin Man), The Wizard Of Oz; Jeff Bridges, The Fisher King; James Caan, Chapter Two; Maria de Medeiros, Henry And June; Gérard Depardieu, Cyrano de Bergerac ('90); José Ferrer, Cyrano de Bergerac ('50); Albert Finney, The Playboys; Greta Garbo, Ninotchka; Jeff Goldblum, The Favor, The Watch & The Very Big Fish; Marilyn Hassett, The Bell Jar;
Anjelica Huston, The Addams Family, Addams Family Values; Jeremy Irons, Swann In Love; Janis Joplin, Janis; Piper Laurie, The Hustler; Peter Lawford, Little Women; Vivien Leigh, Ship Of Fools, A Streetcar Named Desire; Steve Martin, Roxanne; Marcello Mastroianni, Tchin Tchin (also called A Fine Romance); France Nuyen, The Joy Luck Club; Gary Oldman, Bram Stoker's Dracula;
Claude Rains, The Phantom Of The Opera; Vanessa Redgrave, Howard's End; Jean Rochefort, The Hairdresser's Husband; Winona Ryder, Beetlejuice; Campbell Scott, Dying Young; Sissy Spacek, 'Night Mother; François Truffaut, The Green Room.

FINER DISTINCTION NOTES
Four With a 3 Wing
Fours with a 3 wing can sometimes seem like Sevens. May be outgoing, have a sense of humor and style. Prize being both creative and effective in the world. Both intuitive and ambitious; may have good imaginations, often talented. Some are colorful, fancy dressers, make a distinct impression. Self-knowledge combines well with social and organizational skills.
When more entranced, often have a public/private split. Could conceal feelings in public then go home to loneliness. Or they could enjoy their work and be dissatisfied in love. Tendency towards melodrama and flamboyance; true feelings can often be hidden. Competitive, sneaky, aware of how they look. Some have bad taste. May be fickle in love, drawn to romantic images that they have projected onto others. Could have a dull spouse, then fantasize about glamorous strangers. Achievements can be tainted by jealousy, revenge, or a desire to prove the crowd wrong.

Real-Life Fours With a 3 Wing: John Barrymore, Kate Bush, Mary Chapin Carpenter, Judy Collins, Neil Diamond, Judy Garland, Martha Graham, Billie Holliday, Julio Iglesias, Janis Joplin, Naomi Judd, Jessica Lange, John Malkovich, Mary McCarthy, Rod McKuen, Anaïs Nin, Nick Nolte, Laurence Olivier, Edith Piaf, Anne Rice, Liv Ullmann, Robert James Waller, Tennessee Williams.
Movie Fours With a 3 Wing: F. Murray Abraham, Amadeus; Anne Bancroft, The Turning Point; John Barrymore, Dinner At Eight; Judy Davis, Impromptu; Jill Ireland, From Noon Til Three; Vivien Leigh, A Streetcar Named Desire; Winona Ryder, Mermaids.

Four With a 5 Wing
Healthy side of this wing brings a withdrawn, complex creativity. May be somewhat intellectual but have exceptional depth of feeling and insight. Very much their own person; original and idiosyncratic. Have a spiritual and aesthetic openness. Will find multiple levels of meaning to most events. May have a strong need and ability to pour themselves into artistic creations. ­Loners; can seem enigmatic and hard to read. Externally reserved and internally resonant. When they open up it can be sudden and total.
When entranced or defensive, Fours with a 5 wing can easily feel alienated and depressed. Many have a sense of not belonging, of being from another planet. Can get lost in their own process, drown in their own ocean. Whiny - tend to ruminate and relive past experience. Prone to the emotion of shame. Air of sullen, withdrawn disappointment. May live within a private mythology of pain and loss. Can get deeply morbid and fall in love with death.

Real-Life Fours With a 5 Wing: Diane Arbus, Marlon Brando, Richard Brautigan, Jackson Browne, Kurt Cobain, Leonard Cohen, Isak Dinesen, Pink Floyd, Harvey Keitel, Philip Larkin, Thomas Merton, Sylvia Plath, Edgar Allen Poe, Arthur Rimbaud, Anne Sexton, James Taylor, Vincent van Gogh, Virginia Woolf, Neil Young.
Movie Fours With a 5 Wing: David Andrews, Cherry 2000; Albert Finney, The Playboys; Claude Rains, The Phantom Of The Opera; Winona Ryder, Beetlejuice; Campbell Scott, Dying Young; Meryl Streep, The French Lieutenant's Woman, Out Of Africa, Plenty.

CONNECTING POINTS (Stress and Security)
Four's Connection to 2
Healthy connection brings interpersonal skills and the ability to voluntarily empathize with others. Can make good psychotherapists, teachers, ministers, parents. Teach others about the realms of subjectivity. Twoish capacity to identify with an audience. Good communicators, fine therapeutic skills. Can listen and accept, especially willing to understand the pain of friends. Less selfish. Will harbor and act upon ideals of service to others.
Low side brings dependency. Tendency to fixate on a loved one. Whiny demandingness and blame. Codependent melodrama when the real person behaves differently than the Four expects them to. Think they can't live without the other. Twoish capacity to empathize becomes compulsive. Four can't help but identify, especially with others' pain. Takes "beloved" person inside of their subjectivity, making that person their salvation. They may flee themselves by serving others. Prideful sense of specialness is also intensified. Hysterical illness possible.

Movie Fours who demonstrate this connection: Harriet Andersson, Cries And Whispers; David Andrews, Cherry 2000; Vivien Leigh, A Streetcar Named Desire; Nick Nolte, New York Stories; Claude Rains, The Phantom Of The Opera.

Four's Connection to 1
Healthy connection to 1 brings objectivity, balance and idealism. Helps Fours locate the objective world and connect to a factual reality that is independent of their inner feelings. Like finding dry land in a sea of subjectivity. Discipline of cleaving to the real world diminishes self-indulgence and melodrama. Practical problem-solving skills enhanced. Intense feelings smooth out, a kind of balanced equanimity takes hold. Will also be idealistic and willing to work hard out in the world for what they believe in. Become contributors instead of complainers.
The low side of this connection is that a Four can become faultfinding and nit-picky. Dissatisfied perfectionism may color their relationships. Get creatively blocked because nothing they produce is up to their own high standards. Induce shame in themselves with inner criticism. May tear down others out of jealousy. Sometimes latch onto a grandiose, obsessive Big Idea. Belief they are attuned to Absolute Truth. Idealistic and artistic pretentiousness possible. Sometimes can be rageful.
Movie Fours who demonstrate this connection: Anne Bancroft, The Turning Point; Nicolas Cage, Moonstruck; Judy Davis, Impromptu; Maria de Medieros, Henry And June; Winona Ryder, Mermaids; Campbell Scott, Dying Young; Meryl Streep, Out Of Africa, Plenty.
SUBTYPE THEMES
Self-Preservation
People with this theme are often advocates of risk. Can be reckless, court disaster or just flirt lightly with loss. Take chances to stir up emotional intensity, play out melodrama or to get attention. Can have a desire to punish other through hurting themselves. The logic is, "If I die then they'll be sorry and finally appreciate me."
Can seem like counterphobic Sixes in their behavior. With a 3 wing this subtype is more flamboyant and makes a show of their daring. With a 5 wing they grow more sullen and self-punishing.
Movie examples include: Nicolas Cage, Moonstruck; Meryl Streep, Out Of Africa; Judy Davis, Impromptu.

Intimate
Fours with this theme tend to be highly competitive in close relationships but also more generally. With a mate they are prone to jealousy. Want to be the most important person in mate's life. Could be jealous of a partner's past relationships, maybe want to be the only person the partner has ever loved. Related to the dependent side of 2.
More broadly can be consumed by professional envy. Long to best others in their work. Can jealously measure their contributions. Petty about keeping score. Want recognition for their uniqueness. Take away from successes of others when threatened. See F. Murray Abraham in Amadeus, Harriet Andersson in Cries And Whispers, Nick Nolte in New York Stories.

Social
Prone to shame because they compare themselves with the "normal" world around them. Can be highly self-critical and feel ashamed for their deviance from imagined group norms. Sensitive to criticism. May romanticize their defects but feel bad about themselves anyway.
If they have a 3 wing, may cover their shame with charm. Can also seek status or be driven to achieve to get revenge against those who once laughed at them (Danny DeVito, Batman Returns). With a 5 wing, can grow antisocial and depressed, bearing their shame in solitude (Meryl Streep in The French Lieutenant's Woman).

This month we are
installing a new shopping cart to ease your ordering experience of our physical products.
In the meantime, our audio and video titles are available as instant (very inexpensive) downloads.
To order
physical products
call:
1-503-223-9117
Copyright © 1997-2010 The Changeworks