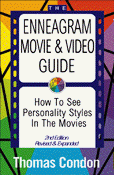 The Enneagram Movie & Video Guide-
Sevens
---

From the Introduction

Chapter: Threes

Fours

Fives

Sevens

Eights

Back To Enneagram Primer


Go to The Enneagram Movie & Video Guide
---
Sevens

FAMOUS REAL-LIFE SEVENS
Comedian Steve Allen, Comedian Tim Allen, Director Robert Altman, Desi Arnaz, Richard Avedon, Honoré Balzac, Humorist Dave Barry, Jack Benny, Chuck Berry, Poet Robert Bly, Sonny Bono, Comedienne Elayne Boosler, Musical comedian Victor Borge, Author Ray Bradbury, Football's Terry Bradshaw, Kenneth Branagh, Richard Branson, Jimmy Buffett, Michael Caine, Mythologist Joseph Campbell, Pierre Cardin, King Juan Carlos of Spain,
Chevy Chase, Maurice Chevalier, Buffalo Bill Cody, Joan Collins, Director Francis Ford Coppola, Filmmaker Roger Corman, MTV's Dan Cortese, NBC's Katie Couric, Singer David Crosby, e.e. cummings, Tony Curtis, Roger Daltry, Philosopher Ram Dass, Gérard Depardieu, Diderot, QVC President Barry Diller, Douglas Fairbanks Jr., Federico Fellini, Duchess of York Sarah Ferguson,
Physicist Richard Feynman, Errol Flynn, Peter Fonda, Malcolm Forbes, George Foreman, Bob Fosse, Michael J. Fox, Author Robert Fulghum, Clark Gable, Ava Gardner, Carlos Casteneda's Don Genaro, John Gielgud, Dizzy Gillespie, Newt Gingrich, Jackie Gleason, Goethe, Ruth Gordon, Cary Grant, Andre Gregory, George Hamilton,
Tom Hanks, Richard Harris, Goldie Hawn, Actress Marilu Henner, Abbie Hoffman, Pianist Vladimir Horowitz, Ron Howard, Lauren Hutton, Aldous Huxley, Self-help author Gerald Jampolsky, Derek Jarman, Magic Johnson, Architect Phillip Johnson, Dallas Cowboys owner Jerry Jones, Actress Carol Kane, Michael Keaton, John F. Kennedy, Ken Kesey, Comedian Alan King, Don King,
CNN's Larry King, Comedian Robert Klein, Director David Lean, Timothy Leary, Director Barry Levinson, Puppeteer Shari Lewis, Artist Roy Lichtenstein, Singer Meat Loaf, Football's John Madden, Director Louis Malle, Author Henry Miller, Yves Montand, Dudley Moore, Jeanne Moreau, Robert Morley, Eddie Murphy,
Jack Nicholson, Leslie Nielsen, Donald O'Connor, Peter O'Toole, Luciano Pavarotti, Author Joseph Chilton Pearce, Regis Philbin, Bronson Pinchot, Brad Pitt, George Plimpton, Vincent Price, Dennis Quaid, Anthony Quinn, Bonnie Raitt, Ron Reagan Jr., Basketball Coach Pat Reilly, Lee Remick, Filmmaker/Nazi propagandist Leni Riefenstahl, Jason Robards, Novelist Tom Robbins,
Ginger Rogers, Linda Ronstadt, Interviewer Charlie Rose, David Lee Roth, Economist Louis Rukeyser, Rosalind Russell, Babe Ruth, Susan Saint James, Director Martin Scorsese, Weatherman Willard Scott, Martin Short, Self-help author Bernie Siegel,
Steven Spielberg, Mickey Spillane, Robert Louis Stevenson, Barbra Striesand, Henry David Thoreau, Lily Tomlin, Tanya Tucker, Janine Turner, Lana Turner, Peter Ustinov, Dick Van Dyke, Voltaire, Kurt Vonnegut, Eli Wallach, Rolling Stone's Jann Wenner, Betty White, Robin Williams, Robert Anton Wilson, Jonathan Winters, Author Tom Wolfe, James Woods, Poet William Wordsworth, Franco Zeffirelli.

INTRODUCTION
Seven is the last style in the emotional trio that responds fearfully to life. Whereas Fives withdraw, and Sixes become self-doubting or suspicious, Sevens manage their fears in a much different way. People with this style tend to suppress and escape their fears by willfully focusing on the positive and imagining future plans, options and possibilities. Sevens are natural "reframers"- they look on the bright side of things, make lemonade out of lemons, and keep happily active. The defensive point of this is to avoid inner pain and be harder to hit as a moving target.
Healthy Sevens are often considered "renaissance" people and can be highly accomplished in many disparate realms of interest. Awakened people with this style are usually adventurous and multi-talented, with an authentic zest for living. Childlike but not childish, Sevens are great receivers. Most have a stimulating, positive outlook and can enthusiastically appreciate life's gifts, even the little ones. Many possess an endearing blend of charm and curiosity; they can be creative, outgoing, generous to friends, and progressively interested in new horizons. Sevens are usually highly resilient and bounce back well from loss and calamity.
At their healthiest, people with this style tend to look for long-range fulfillments and deeper satisfactions. To this end, they are able to accept the realistic necessity for both pain and commitment in their lives. The acceptance of life's painful dimension gives a Seven more depth and consequently enhances their joy. Many report that their willingness to make appropriate commitments gives their life an overall structure within which they can still find variety.
When more entranced, people with this style are prone to escapism, trying to avoid the pain in themselves and others. Commitment can become mistaken for confinement in the Seven's mind. They may control and sublimate their fears by running away into appetites. These can be for food, drugs, ideas, activity, people, new experiences, etc. Entranced Sevens eat life but don't digest it. They search out the new, trying to maintain a high by flavoring reality with their imaginations and fantasies of what will be. They can be dilettantish, impulsive, undisciplined, impersonal, glib, narcissistic and acquisitive. Sevens may entertain many interests, but indiscriminately. When defensive, their knowledge is extensive but not deep, rather like a jack-of-all-trades.
Many entranced Sevens have problems with completion. The word "execution" sounds less like it means finishing what you start and more like a form of death. They tend to be strong on initiating action and weaker on follow-through. When defensive, they adopt what's called an "as if frame," where the Seven makes up positive fantasies about the future and pretends they are reality. "It's as if this wonderful adventure I'm planning is already happening."
Difficult present situations are sometimes avoided this way. A Seven can fantasize so much about a problem that they almost begin to believe they have solved it in reality. This eliminates the need to put themselves on the line, to struggle, to risk failure or have their actions judged. Most entranced Sevens have fears about their adequacy and tend to compare themselves with others. A Seven can feel inferior to someone they admire and then defensively act superior towards someone else to even the balance.
When Sevens are deeply entranced, the line between reality and fantasy loosens drastically. They often grow obsessed with grandiose visions and inflate themselves narcissistically. Very unhealthy Sevens may completely refuse responsibility and resist all realistic constraints on their behavior. They could act wild, impatient, chaotic, delusional, explosive. Tendencies toward addictions and manic-depressive cycles become quite strong. Appetites can't be permanently satisfied so the Seven plunges headlong into hedonism, seeking more to consume. Anyone who gets in the way of a manic Seven will be knocked down; all promises to others are broken. When unhealthy Sevens call legal forces down on themselves. The "world" has to restrain the antisocial behavior born from a Seven's inner cravings.

SEVENS IN THE MOVIES
Popular commercial moviemaking is largely an escapist, that is to say Sevenish, medium. A huge number of film performers and many excellent directors have been Sevens. Much film comedy is generated by or around Sevens. edge socially - towards improving urban environments for
Movie Sevens often handle problems with wit and display grace under pressure. They show the audience how to take their own difficulties less seriously. Some Seven protagonists are capable, witty and debonair; other are little boys or girls acting out our fantasies. Even Sevens who refuse to accept adult responsibility are presented in an appealing light. Often they are disapproved of by unreasonable Ones, so the story is slanted in the Seven's favor. Female movie Sevens are often lively, inspiring characters who teach others how to enjoy life.
There are not many Seven villains; they are mostly antisocial maniacs driven by appetite. Some appear in tragic downfall stories about alcoholics or manic-depressives, but the portraits are still sympathetic.
Sevens can be found in the movies as jaunty lovers, adventurers, pirates, scoundrels, marginally criminal rogues, gourmands, male and female Casanovas, dreamers, drifters, con-men, wild men, lively Aunts, idealistic schoolteachers, drunkards, gluttons, visionaries, irresponsible parents and spouses, dance-away lovers and, in supporting roles, as the cheerful hedonistic friend of the stuffy hero.

MOVIE REVIEWS
AUNTIE MAMES
There are many stories of lively eccentric Aunt figures who are Sevens. This sampling begins with 1958's Auntie Mame.
"Life is a banquet but most poor suckers are starving to death!" This gluttonous metaphor is Auntie Mame's credo and she lives it every moment she can. Based on a memoir by Patrick Dennis, this film is adapted from a stage play that celebrated his aunt's eccentric vivacity.
What plot there is spins on how Mame (Rosalind Russell) upsets the Oneish mores and manners of those around her. Since these social conventions are extremely dated, the clash is only mildly amusing. Mame's Sevenness, though, stands out quite clearly. She writes a book called, "Live! Live! Live!" and is thoroughly disapproved of by a fussy, judgmental One banker (Fred Clark). He's Patrick's legal guardian and fights against Mame's corrupting influence ("I'm going to turn this kid into a decent God-fearing citizen if I have to break every bone in his body!").
Mame's a hyperactive extrovert - gregarious, grandiose, charming, fascinated by everything. It's interesting to see how the film presents her as a model of joyous vitality and love-of-living in stuffy upper-class 1958. Decades later she seems kind of tiresome. "You have given me a new interest!" she says rather often. Life is one glorious banquet after another. Without meaning to, the film portrays the sameness that results when a Seven seeks constant excitement and newness.
The portrait isn't entirely one-dimensional. Mame does have feelings and, while struggling through the Depression, she sinks into pain and defeat at times. She's a self-preservation subtype and certainly cares about the people in her sphere.
In the end she's unchanged, though, having taken Patrick's son under her wing. "I'm going to open doors, doors you never dreamed existed," she tells a nine-year-old boy, "Oh, what times we'll have, what vistas we'll see ... !" If you are not a Seven, you may want to lie down for a nap about this time. As a movie, Auntie Mame is talky and stagey but it presents an instructive portrait of the style.
Mame's sister Vera also seems like a Seven and Hermione Gingold plays a befuddled Nine. Mame has a 6 wing.

Watching Auntie Mame you suddenly realize that it's been remade several times under different titles. Ruth Gordon played the character in 1971's Harold And Maude, the black comedy cult-favorite. This film's style is Sevenish and Maude, while robust and vivacious, is also distinctly impersonal as she seeks out new experiences.
Maude has a counterphobic 6 wing. She has a background as a political activist and is still a crusading antiauthoritarian. She steals cars, replants public street trees and enjoys outwitting the police. She "liberates" people from their attachments ("How the world still dearly loves a cage"), and is a blithe rationalizer ("Consistency is not a human trait"). Her suicide at the age of eighty - opting for death rather than a poor quality of life - seems at once courageous and escapist.
Harold (Bud Cort) is a Nine, although his habit of staging elaborate fake suicides at first seems Fourish. Harold's not a romantic, though; he's passive/aggressively punishing his Two mother for her self-absorption. Pretending to be dead is an apt metaphor for unhealthy Nineyness. Harold's military uncle is a Six. Naturally there's a dour One repressive Minister who's directly opposed to Maude's Sevenish high spirits.

A less romantic Auntie Mame figure is Sylvie, played by Christine Lahti in 1987's Housekeeping. She's the eccentric itinerant aunt of orphans Lucille and Ruthie (Andrea Burchill and Sara Walker). After their mother commits suicide, Sylvie is called to live with the girls and be their surrogate parent.
Trouble is, Lahti's a flaming Seven and especially flighty (intimate subtype). She's so unsuited for adult responsibility that the girls begin "feeling like we were the parent and Sylvie was the child." They act that way too, especially Lucille, a budding One who gradually builds a firm judgmental stance (reaction formation) against Lahti. "I don't have to help the way I am," she says haughtily, "I'm not like Sylvie!"
This dynamic is very clear and well-drawn; you watch it grow from inception. Lucille intuitively knows that her adventurous, distractible aunt is only a peer. When the girls play hookey from school you can see them longing for Lahti to scold them and set limits. Instead their aunt tries to talk them into further truancy. Lucille eventually seizes responsibility and sets to work "improving" herself to compensate for the unstable circumstances. The house fills up with cans and newspapers, the yard gets overgrown, and, as Lucille says, Sylvie "just wanders away."
This is less objectionable to Ruthie, an introverted bookish Nine, who finds her lively aunt stimulating. It's not unusual for a Nine to take energy from being around a Seven - we just saw it in Harold And Maude. Ruthie's a future novelist and likes to narrate her adventures with Lahti - "Sylvie had no awareness of time; for her hours and minutes were the names of trains. We were waiting for the 10:52 ..."
There's a nice scene where we also see the Seven tendency to rationalize. Lahti "borrows" a rowboat so that she and Ruthie can visit a distant forest. The boat's owner chases them from the shore and Ruthie says to Lahti:
"That man is yelling at us."
"Oh, I know," Lahti says, breezily dismissive. "He always does that. If he thinks someone is watching he just carries on more. It's pitiful - he could have a heart attack someday."
Ruthie says, "It must be his boat."
"Either that or he's some kind of lunatic," Lahti replies. "I'm certainly not going back to find out!" She starts whistling as she rows faster.
Eventually Lahti calls down the forces of Oneness on herself. These are personified by church ladies, a policeman and various legal threats. Lahti panics and herself gets Oneish for a spell. She tries to act properly and cleans up the house. But in the end she resolves the dilemma in a very Sevenish way.

Hugh Hefner: Once Upon A Time, Star 80
"A quite remarkable adventure" is how Playboy magazine publisher Hugh Hefner describes his rather preposterous life. "A lot of things in my life have seemed like fantasy," he adds, putting it mildly. This unusually sympathetic biography follows Hefner's story from his repressive Midwest upbringing through his swinging sybaritic decades to his later phase as a mellow, older family man crowding seventy.
It's quite easy to see Hefner's libertine Seven lifestyle as a reaction to the Oneishness in his background and within himself. His religious Midwestern mother is almost certainly a One and the family is descended from Pilgrims. The social forces that Hefner opposed and provoked are all represented by Ones in this film. William F. Buckley, fundamentalist ministers and feminist Susan Brownmiller all weigh in with objections. The men are distressed that Playboyless?" she asks her boss, Chris is pornographic and Brownmiller emphasizes the magazine's objectification of women, a charge that Hefner truly does not comprehend.
Hefner himself has a strong One streak (connecting point); it's mainly obvious in his rebuttals to critics and party poopers. He spouts ideas from the "Playboy Philosophy," a rambling manifesto that is both sincerely ethical and crazily warped. The film's cloying narration describes Hefner's life as a "quest for personal freedom and to liberate others from the past." This sort of logic reflects a Seven gone to 1. Hefner certainly has a point or two - sex ought to be less fraught with man-made rules, and moralistic repression is no answer - but his Oneness also seems a defensive reply to the world's wet blankets. Even Hefner wonders whether he might somehow "be coming full circle back to the values of my parents."
As a Seven, he's pretty flagrant. He sorts for beginnings and possibilities, acknowledges a lifelong problem with commitment and is an interested appreciator of each new day. As a child, he "turned to fantasies early, to escape into what I felt was a better world." As an adult he escaped his business woes by flying around the world in his jet. "Playboy is about the play and pleasure of life," he intones.
Hefner has a 6 wing that is somewhat counterphobic (his battles with authority), but also helps him be a loyal friend. He reveals, for instance, a genuine, touching anguish for the people he's lost in his life. He's a self-preservation subtype and has a large circle of acquaintances that he pals around with.
He also displays the kind of willed naïveté and deliberately positive outlook that Sevens have such a knack for. He calls a stroke he had his "stroke of luck," and talks only in terms of what he learned from the medical crisis. Hefner's good-hearted and, all in all, a hard guy to dislike (though he should never again sing in public).
The catch is appetite. Hefner is a sexualizing Seven, an orientation that arises out of problems with the mother. Usually the Seven child feels undernurtured and that sense of lack is converted into a kind of inner hunger. This can lead to addictive behavior, and in Hefner's case the addiction has been to erotic pleasure. The son's sense of distance from the mother later translates into an objectification of women and they become the source of sustenance for a possibly bottomless hunger. Since people generally resent what they are addicted to, the women tend to be worshiped and degraded by turns.
Of course, there are centuries of social tradition that support men turning women into sex objects but what Hefner has done with his magazine is also particular to the psychology of Sevens. As with the life of Casanova, another famous Seven, Hefner's story is about sexual gluttony.
Remember that Sevens, when defensive, tend to rationalize and offer illogical logic that bats away consequence. Thus according to Playboy, being libertine is "sexually enlightened," satisfying endless appetites is called "freedom," and treating women as objects is reframed as "respectful admiration." The demeaning dark side of what Hefner has done is precisely what he deletes. At one moment he muses, "Can I honestly say that during all those years of adventure, which I regarded as a celebration of my life ... can I honestly say that someone wasn't hurt by what I did?" He pauses and you wait for him to connect, but he stops with, "I don't know."
For a harsher examination of the self-referential world Hefner created, you need to turn to another Seven. Choreographer/director Bob Fosse was quite successful on the stage before he turned to making films. He only made a few, but they were mostly splendid, notable for being both entertaining and dark-edged. Cabaret won awards and Fosse's autobiographical All That Jazz is quite a good, searing portrait of an addictive Seven with an 8 wing. Roy Scheider plays Fosse as lovable and honest but hopelessly hooked on drugs, booze and sex.
Fosse, the man, died eight years later essentially from the lifestyle he so unsparingly showed in All That Jazz. A clause in his will left $25,000 to a group of his friends to "have one on me" and go out together for a big expensive dinner party.
With these credentials, the director made his last film, the tragic, little-seen Star 80, about the short life of Playboy centerfold Dorothy Stratten. Stratten haunts the Hefner biography partly because Hefner can't make any connection between the culture of his magazine and Stratten's murder. But Fosse sees it plain, and draws a line from Stratten's sleazy, ambitious husband directly to Hefner.
Eric Roberts (a great performance) plays the unstable husband who plucked Stratten (Mariel Hemingway) from a Dairy Queen and pushed and groomed her for centerfold stardom. As he succeeded, he lost her to Hefner's larger, more professional machine and the wider world of opportunity. Unable to let his "creation" go, he instead shot her and himself to death.
Roberts is playing a crazy, driven Three. He's star-struck, vain, competitive, and narcissistically hostile. Hemingway's Stratten is a sweet, confused Nine with almost no point of view who allows herself to be molded. As Roberts grows increasingly dangerous, she minimizes and explains away his behavior. She also gets swept up in a world of image reflecting a Nine's connection to 3.
Cliff Robertson is ironically cast in a brief role as Hefner. It's ironic because Robertson is a real-life One and in the movies he has mostly played Ones. He makes a good Seven here (real-life connecting point) though he gives the role a Oneish aura. The film shows Hefner disparaging Stratten's husband ("He has the personality of a pimp") without the slightest inkling of their similarities. The Playboy machine puts a genteel sheen on the same mindset that Roberts expresses nakedly.
Star 80 is something of a horror movie, with Roberts as the monster, but it's darkly compelling and smart as almost a direct rebuttal to the Hefner hagiography.

Lillies Of The Field
Timeless, utterly charming story about a nomadic Seven, Sidney Poitier, traveling through the New Mexico desert. Low on cash he turns in at a nunnery hoping to find some quick work. There he encounters a group of German nuns led by Lilia Skala, a One.
Skala's what used to be called an "old battle axe." Tough, stubborn and determined, she has seen a vision of a new chapel in the desert. She decides that Poitier has been sent by God to build the chapel but he just doesn't seem to know it.
A good Seven, Poitier has other plans - Big Plans. He's cheerfully narcissistic about the grand future that he's traveling towards. The trouble in the present is that Skala won't pay him for his handiwork and he can't quite travel on without the money. Gradually it develops that the nuns, who barely speak English, are flat broke and stranded themselves. Poitier's Sevenish tag line, "But I'm just passing through!" sounds more and more feeble as he realizes the situation. For all his bravado, he's a kindhearted man with an active conscience (6 wing).
Skala sucks him into building the chapel by degrees. She maintains her rock-hard certainty that Poitier is heaven-sent and he gradually wilts before her will. The nun also has a 9 wing and is extremely impersonal. This gets to Poitier because he wants to at least be thanked for his contribution since no one will pay him. Skala sees no reason to thank a mere instrument of God and instead remains insulting and oblivious.
Within the Enneagram, Sevens have a mixed connection to One and Poitier shows it. At one point he becomes obsessed with building "his" chapel. This quality of fixation on an Absolute Idea is related, for a Seven, to the low side of 1. On the high side, Poitier shows great dedication and discipline that is also Oneish in flavor.
Skala also shows a little of the One's tension towards Seven as she resists Poitier's charm and playfulness. She manages to let her hair down once or twice as when he teaches the nuns to sing some rousing black spirituals. Again you see the Seven bent towards cheerful escapism directly opposed by Oneish tendencies towards serious, rule-bound commitment. By story's end, Skala and Poitier both reach a kind of middle ground, growing toward each other in small but significant ways.
This film looked like it would be sentimental and preachily Christian, but it's neither. The disarming, graceful comedy flows directly from the lead characters' Enneagram styles.

Mermaids
Winona Ryder plays Charlotte Flax, Cher's Four daughter in this mother/daughter character study. Cher plays a Seven, and the film presents another good contrast between the two styles. As a teenage Four, Ryder's Charlotte is the soul of romantic misery, fixated on a Niney local boy who is the gardener at a nearby convent.
Charlotte never knew her father but she thinks about him often, displacing feelings onto his myth (introjection again). She has a bit of a martyr complex and longs for an ideal purity to her life and motives: "I do so want to be good and virtuous." To this end she makes plans to become a nun even though she is Jewish. After meeting a real nun she says, "I desperately wanted to ask her what color her bra was and if she had pure thoughts every second of the day." At one point, Charlotte registers at a pregnancy clinic under the name "Joan Ark." Later in the story she takes up fasting.
The core of her behavior is a Four's longing in the face of abandonment, but Charlotte also shows the Four connection to 1. Her mother is a selfish, escapist Seven and though Cher tries to make the character memorably comic, Ryder's character has to compensate for feeling neglected. She will say, "Oh, Mrs. Flax is a really great mother," and then long to live someone else's life. Her romantic preoccupations keep her cushioned from Mom's abuse and Dad's absence.
Cher's Mrs. Flax is a Seven with an 8 wing. Her whole life is a pattern of flight, beginning with running away from home ("If you hate a place, you can get in your car and poof! you're gone!"). To Bob Hoskins, with whom she gets tentatively involved: "I'm never growing old." "But time catches up to you, what can you do?" he asks. "Keep moving," is the reply. Mrs. Flax is meant to be a comically lovable Movie Mother, but she is actually an aggressively undependable Seven - depersonalizing, selfish and glib.
The film soft-pedals Cher's neglect of her children but it's constant. She rationalizes, minimizes responsibility, and deflects criticism with sarcasm ("Oh, now we're going to play, 'Who's the Worst Mother in the World!'"). Her tone towards the children is often impatient and she mostly implies that they are too much trouble: "You're a kid and until you grow up, we're going to live my life my way!"
She's also a spectacular hypocrite. After her daughter has run away and returned, Mrs. Flax lectures, "Running away doesn't solve anything. I'm a grown-up. I don't run away. I just move on!"

My Dinner With Andre
When I first saw this film in a theater, perhaps a fifth of the audience walked out when they realized it was about a dinner conversation. Those who stayed laughed long and loud as the film is well acted, thought-provoking and joltingly funny.
Like sex, lies and video, My Dinner With Andre is somehow about Enneagram styles - neurotic skews and what's beyond them. The utterly alien world views of friends Wally (Wallace Shawn) and Andre (Andre Gregory) are contrasted at a reunion dinner that Wally attends mainly out of politeness.
The first part of the evening is dominated by Andre's rambling, fantastical account of a recent nervous breakdown and spiritual crisis. Andre's an intellectual Seven and he tells his tale with big, imaginative leaps that freely associate unrelated events. He's also a name-dropper and displays an implicit air of smug superiority towards Wally.
Andre has a 6 wing. At times he's full of guilty self-doubt and his initial story is about seeking answers from outside sources. Here and there his story sounds faintly paranoid. He's also angrily self-critical and has been seeking salvation through a Big Idea. Both of these are related to a Seven's connection to 1.
There's a spoof of artistic and New Age thinking in Andre's logic, but what's especially funny is watching Nine Wally lose his battle to stay politely disengaged while Andre painfully unravels. He tries to humor Andre, but is struck by the latter's anguish and sincere attempt to comprehend his condition. Also, Andre is making more sense than he first seems to be, touching nerves that Wally tries to keep asleep.
Turning point comes when Wally blurts: "I don't really know what you're talking about! - I mean, I know what you're talking about, I just don't know what you're talking about!"
Wally then bursts out with a monologue on his philosophy of living. In contrast to Andre's kaleidoscopic style, Wally is studiously mundane. He's a self-preservation Nine and his defensive emphasis is on simple pleasures, maintaining routines and avoiding thorny questions. He's a minimizer: "Do you want to know my actual response to all this? I'm just trying to survive." Wally starts talking about his willed sense of purpose, the pleasure he takes in running errands and checking items off a daily list. If he wakes in the morning and "a roach hasn't died in my coffee cup during the night, I just feel incredible happiness."
About this time, Wally starts to unravel too as his defenses sound more arbitrary and absurd. Both friends keep unpeeling as Wally becomes more heartfelt and Andre less patronizing.
The conversation takes a new turn, as they talk less of their defenses and more about what an authentic life might be like. Andre wonders how he "could cut out all the noise, quit performing and start to listen to what's inside of me." Wally ruefully admits that he feels "adequate to do but not just to be a human being."
It's difficult to explain what finally happens in this film. The conversation keeps broadening and then dropping to new depths, and it's amazing how much ground is opened. When Wally and Andre finally go quiet, it's gently stunning. The friends and the viewer are left hovering above the tender, mysterious void that is beyond masks, defenses and illusions. Andre is far more sober and contained while Wally has come thoroughly awake to himself. The film is essentially the story of an epiphany.

The Night Of The Iguana
Excellent film of Tennessee Williams's play. Comedy-drama concerns an alcoholic defrocked Seven minister (Richard Burton), well out of luck and stranded at a seedy Mexican beach resort. How he got there has a lot to do with being a dissolute Seven with a 6 wing. He's sort of a screw-up, someone who pulls trouble down upon his own head. This is mostly driven by Sevenish appetite; Burton was bounced out of the priesthood for seducing women and drinking. Now a tour guide ("Tours of God's world by a man of God"), he courts disaster by staying drunk, letching after underage girls and infuriating a nasty, intolerant One passenger (the One/Seven tension again).
The latter gets Burton fired and the tour eventually clears out without him. He goes deeper into escapist alcoholic patterns, desperately, if cheerfully, flailing out of control. Part of what is highlighted is how an escapist Seven will not self-contain. It's everyone else's problem. One character eventually ties Burton up in a hammock and won't let him out till he's sober. This is a good metaphor for what Sevens sometimes force others to do - restrain them because they will not restrain themselves. Notice too how Burton goes quiet and contained when finally sober (connection to 5). Once his addiction is broken by outside forces, he returns to himself.
Ava Gardner also plays a Seven but with an 8 wing (her real-life style). She's lusty, aggressive and expansive. Deborah Kerr plays an eccentric, pious Two with a 1 wing ("What is important is that one is never alone"). She is very similar to Joan Cusack in Men Don't Leave (see "Twos"). Burton was an Eight in real life so he's playing his wing.

Nothing In Common
Seriocomic study of a young, successful advertising executive, a Seven, very well played by Tom Hanks. The film charts his struggle with emotional responsibility as he copes with the divorce of his aging parents.
Mom (Eva Marie Saint) is an oblivious Nine waking up to how angry she has been while married. Hanks's real trouble, though, is with his ailing father, a grumpy, volatile Eight played by Jackie Gleason.
"Do you have any idea how much money I'm being paid to stay this immature?" Hanks asks a girlfriend to whom he cannot commit. He starts the story glib, cocky and juvenile. A boy-man, Puer Eternis. He is shown to be highly creative in his work and his abilities are clearly based on the fun-loving, imaginative Seven style of thinking.
As the movie progresses, Hanks has to deal with acute frustration and his own angry responses (he shows flashes of an 8 wing). As he copes with his father's medical needs and those of a difficult Eight advertising client, he goes through a rite of passage and believably begins to grow up. The film starts with a synthetic TV sitcom quality but turns into something both funny and unexpectedly touching.
Gleason is good as the father although the character is quite unpleasantly selfish. He does convey the fears and frustrations of aging, especially as they affect an Eight (7 wing). Sela Ward plays a corporate Three, the client's daughter with whom Hanks gets involved. She's crisp, efficient and hollow, but nice underneath. Hector Elizondo is Hanks's good-guy boss and he's a Nine. Eva Marie Saint is a Nine in real life. Jackie Gleason was a Seven with an 8 wing. Tom Hanks is a real-life Seven and almost always plays them.

Tucker - A Man And His Dream
Jeff Bridges is good in a role that glorifies being a Seven. He's a dreamer-in-denial automaker who tries to compete with the large auto companies by building a well-designed, unusually safe new car in 1940s America.
He fails. Based on a true story, the film downplays the fact that the real Tucker was squashed like an ant and died in jail for his efforts. Instead, the movie's tone is celebratory, cheering on a little guy with big dreams. Director Francis Ford Coppola is a Seven (8 wing) and Tucker failed big at the box office, so there's some irony afoot here.
Bridges is shown as cheerfully ignoring everyone's advice against mass-producing a new kind of car. He has a Vision. This film shows a Seven fixated on the low side of 1, growing obsessed with a Big Idea. "What's the difference if we build 50 cars or 50 million? It's the idea that counts!" he says. Again, rationalizing is a defense for Sevens. Each time Bridges meets discouragement, he makes even bigger plans to suppress his own fears. He maintains a relentless enthusiasm, keeping a big frozen smile on his face (he practices in the mirror). When Bridges gets especially frustrated he throws tantrums and yells a lot. This also has a connection to 1- Sevens can get critical and enraged when opposed. The yelling also reflects an 8 wing.
Bridges gets monotonous and shallow after a while, but that's the point about narcissism. Note too how impersonal he can be in the service of the dream. He neglects his kids, because he can't quite snap out of the obsessive trance that he's in.
Martin Landau again plays a cautious, pessimistic Six (5 wing). He's Bridges's loyal, skeptical accountant who is endlessly sorting for what can go wrong. Someone has to.
Dean Stockwell has a standout cameo as Five billionaire Howard Hughes. He's disassociated and weird, showing the abstract aura of a Five with a 4 wing. Joan Allen plays Tucker's wife as a breezy Seven.

The Unbearable Lightness Of Being
This film, based on Milan Kundera's novel, centers on liaisons between a man and two women against the backdrop of the Russian invasion of Czechoslovakia in 1968. The man, Daniel Day-Lewis, marries Twoish Juliette Binoche but keeps Lena Olin, a Seven, on the side.
Olin is an artist and a generalist. She and Day-Lewis have a steamy affair that is both passionate and impersonal at the same time. She's a sexual epicure, at play in her artist's studio. She likes costuming and sexual posing; it's part of the sensibility that goes into her art. She certainly cares about people in the abstract but gets involved with unavailable men so that her personal options can stay always open.
"The only place we can find beauty is where the persecutors have overlooked it." Olin has some political conscience but, as she says, "I like to leave places." That's just what she does when the Russians invade; she flees to Switzerland, sets up a new studio, and gets involved with another married man. When the man falls in love with her and announces that he has left his wife, Olin reacts like a caged wolf. She packs up her apartment and overnight vanishes from view.
Later, back in bed with Day-Lewis, she muses, "Maybe I should have stayed - he was such a good man." This is spoken in a light, uninterested tone. You can tell that she has already blown off the involvement and rationalized her own responsibility. Soon after she moves to Marin County, California, which somehow seems fitting.
Olin is not playing an uncontained manic Seven like Auntie Mame, but the disassociated option-oriented style of thinking is just the same. She's an intimate subtype, because of the predilection for one-to-one relationships and the Don Juaness scenario she is living out.
Olin's a real-life Six so she's playing her wing. Day-Lewis is cast as a dashing, empty sex object. His behavior is also Sevenish but his Enneagram style was finally unclear, at least to me. Day-Lewis is a real-life Five.
OTHER MOVIE SEVENS
June Allyson, Little Women; Alan Arkin, Joshua Then And Now; Richard Attenborough, Jurassic Park; Anne Bancroft, 84 Charing Cross Road; Ian Bannen (grandfather), Damage; Alan Bates, Duet For One, Women In Love; Jacqueline Bisset, Wild Orchid; Joseph Bologna, Chapter Two, My Favorite Year; Klaus Maria Brandauer, Mephisto; Beau Bridges, Heart Like A Wheel;
Michael Caine, Alfie; Julie Christie, Darling, Francis Ford Coppola, Hearts Of Darkness; John Corbett ("Chris"), Northern Exposure; Russell Crowe ("Andy"), Proof; Robert Culp, Bob, Carol, Ted And Alice; Kirk Douglas, Lonely Are The Brave; Melvyn Douglas, Ninotchka; Richard Dreyfuss, Once Around; Robert Duvall, Lonesome Dove; Anthony Edwards, Mr. North; Clark Gable, The Misfits; Andy Griffith, A Face In The Crowd;
Audrey Hepburn, Breakfast At Tiffany's; Dennis Hopper, Flashback, most any film; Bob Hoskins, The Long Good Friday; Tom Hulce, Parenthood; William Hurt, Altered States; Tommy Lee Jones, Nate And Hayes; Michael Keaton, Beetlejuice, Clean And Sober, Gung Ho, Mr. Mom, Night Shift; Val Kilmer, Real Genius; Alan King, Memories Of Me; Bruno Kirby, City Slickers; Kevin Kline, Chaplin; Burt Lancaster, Atlantic City, Local Hero; Jean-Pierre Léaud, Last Tango In Paris; Jack Lemmon, Bell, Book And Candle; Hal Linden, A New Life; Viveca Lindfors, The Sure Thing; Andie MacDowell, Object Of Beauty; John Mahoney, Barton Fink; Ray Milland, The Lost Weekend; Matthew Modine, Full Metal Jacket; Zero Mostel, The Producers; Willie Nelson, Songwriter; Paul Newman, Blaze, Butch Cassidy And The Sundance Kid, The Hustler; Jack Nicholson, Easy Rider, Heartburn, The Witches Of Eastwick; Peter O'Toole, My Favorite Year;
Al Pacino, Frankie And Johnny; Earl Pastko ("Satan"), Highway 61; William Petersen, Hard Promises; Brad Pitt, A River Runs Through It; Robert Preston, Finnegan Begin Again, The Music Man, Semi-Tough, Victor/Victoria; Dennis Quaid, The Big Easy, The Right Stuff, most any film; Robert Redford, Little Fauss And Big Halsey; Jason Robards, The Christmas Wife, The Night They Raided Minsky's;
Susan Sarandon, Bull Durham, Light Sleeper, White Palace; Robert Townsend, The Mighty Quinn; Robert Urich, Ice Pirates; Dick Van Dyke, Mary Poppins; Jon Voight, Conrack, Midnight Cowboy; Fred Ward, Henry And June; Billy Dee Williams, The Empire Strikes Back; Robin Williams, Concert Film, Good Morning, Vietnam, Toys; James Woods, Joshua Then And Now; Ed Wynn, Mary Poppins.

FINER DISTINCTION NOTES
Seven With a 6 Wing
Healthy Sevens with a 6 wing are responsible, faithful, lovable, nervous and funny. They are generally more oriented to relationship and want to be accepted by other people. Can be steady, more willing to stick with commitments; the 6 wing brings a longer sense of time. Usually funny or enjoy a good laugh - an amazing number of comedians are Sevens with a 6 wing. More openly vulnerable, have an unguarded, tender sweetness. Some have trouble expressing anger even when they are justified. May evade or finesse authority but still aware of it like a 6. Canny and practical, they look for the deals and the loopholes.
When more entranced, may have surprise episodes of sensitivity and insecurity. Their feelings can be easily hurt sometimes. Sensitive especially to comparisons. May avoid putting themselves to the test. Grow dependent and addicted to other people, afraid to be alone, suspicious and skittish. Can feel guilt easily, may project their conscience onto others and then act irresponsibly. Make themselves shallow, fall in and out of love easily. Sometimes breezily betray others by running away. Can be reckless, unstable, and self-destructive.
When Sevens have a counterphobic 6 wing their idealism can motivate a sincere desire for social reform. May work hard for a cause. Can be antiauthority, passive/aggressive, flippant, defiant. Some report hating to be told what to do. Clashes with Ones likely. May call down trouble on themselves. Complain about the status quo. The realm of hippie rebellion.

Real-Life Sevens With a 6 Wing: Dave Barry, Kenneth Branagh, Joseph Campbell, Chevy Chase, Katie Couric, David Crosby, Hugh Downs, Peter Fonda (counterphobic), John Gielgud, Cary Grant, Goldie Hawn, Marilu Henner, Magic Johnson, Ken Kesey, Timothy Leary (counterphobic), Eddie Murphy, Brad Pitt, Jerry Rubin (counterphobic), Rosalind Russell, Martin Short, Steven Spielberg, Lily Tomlin, Robin Williams, Jonathan Winters, William Wordsworth.
Movie Sevens With a 6 Wing: Richard Burton, The Night Of The Iguana (counterphobic); Ruth Gordon, Harold And Maude (counterphobic); Andre Gregory, My Dinner With Andre; Hugh Hefner, Hugh Hefner: Once Upon A Time; Audrey Hepburn, Breakfast At Tiffany's; Tom Hulce, Parenthood; Christine Lahti, Housekeeping; Rosalind Russell, Auntie Mame; John Shea, Missing (counterphobic); Dick Van Dyke, Mary Poppins; Jon Voight, Midnight Cowboy.

Seven With an 8 Wing
When healthy, Sevens with an 8 wing are often generous, gregarious and expansive. Tend to be exceptionally loyal to their friends, especially when social subtype. Leap aggressively to the defense of those they care for. Might seem loud or boisterous although some are urbane and witty. Enjoy social celebrations, storytelling, jokes, food and travel. Generally have a strong self-confidence for worldly matters and getting what they want. Talent for making something out of nothing - entrepreneurial. Usually share what they have when healthy, want everyone to enjoy their sense of bounty and wide range of interests.
When more entranced, they may be demanding, displaying a selfish impatience and a self-justifying narcissism. May want what they want right now. Aggressive, hasty drive to acquire money and material options and recognition. Can demand that the people in their lives say only what the Seven wants to hear - sugarcoated truth. Lash out angrily if reality doesn't meet their expectations; sometimes vengeful. Often perfectionistic as parents (low side of 1). Moralize to others and then are themselves irresponsible. Amnesia for promises made in an expansive moment. Particular difficulty with sexual fidelity.

Real-Life Sevens With an 8 Wing: Victor Borge, Chuck Berry, Robert Bly, Michael Caine, Joan Collins, Francis Ford Coppola, Barry Diller, Clark Gable, Ava Gardner, Newt Gingrich, Jackie Gleason, Tom Hanks, Richard Harris, Alan King, Larry King, Robert Klein, Henry Miller, Jack Nicholson, Anthony Quinn, Leni Riefenstahl, Louis Rukeyser, Barbra Streisand, Jann Wenner, James Woods.
Movie Sevens With an 8 Wing: Klaus Maria Brandauer, Mephisto; Jeff Bridges, Tucker; Cher, Mermaids; Richard Dreyfuss, Once Around; Ava Gardner, The Night Of The Iguana; Andy Griffith, A Face In The Crowd; Bob Hoskins, The Long Good Friday; Michael Keaton, Clean And Sober; Ray Liotta, Goodfellas; Paul Newman, Blaze; Jack Nicholson, Batman.

CONNECTING POINTS (Stress and Security)
Seven's Connection to 1
Healthy side of this connection brings self-discipline, follow-through, and a certain idealism. There may be a principled persistence and sober critical faculties that help the Seven to get things done. Good at balanced evaluation; they're appreciative and sort for the positive but they're nobody's fool. Ethics can be important. Want to improve things, search for "win/win" solutions to problems. Start to take life seriously enough to do things well, finish what they start. The connection to 1 generally helps Sevens become more objective and committed in ways they are comfortable with.
When more entranced, their discipline degenerates into a confining web of limits. Seven project their 1 streak and begin to react to the stuffy, pointless rules of others. May confuse discipline with repression, build a trap that they need to escape from, blame it all on you. Critical and dogmatic, can harbor perfectionistic ideals of what others should do. Start to think in black and white; can go obsessive about detail.
The other neurotic manifestation is when Sevens latch on to a Big Idea. This is an abiding principle or future possibility that the Seven is sure will resolve their present discomfort. Can grow quite deluded and obsessed. Eyes fix so completely on a future possibility that they excuse themselves from the consequences of present actions.

Movie Sevens who demonstrate this connection: Jeff Bridges, Tucker; Francis Ford Coppola, Hearts Of Darkness; Robert Duvall, Lonesome Dove; Andre Gregory, My Dinner With Andre; Hugh Hefner, Hugh Hefner: Once Upon A Time; Dennis Hopper, Flashback; Tom Hulce, Parenthood; Sidney Poitier, Lillies Of The Field; Jon Voight, Conrack.

Seven's Connection to 5
Healthy connection to 5 helps a Seven take time to contemplate and internalize their experience. Often brings sobriety, perspective, and the power to digest the experiences they have "eaten." Helps Sevens slow down, calm down, detach, see the Big Picture. May also be more willing to accept their pain and chew through it. Develop a respect for inner turmoil and deeper emotional processes that can take time. May embark on a search for philosophical wisdom. Find more depth, learn how to be alone. Some Sevens have an almost aesthetic distaste for excess that is related to this connection.
When more entranced, connection to 5 supports escapism, stinginess, and depressive tendencies. Unhealthy Sevens will check themselves out of difficult situations, withdrawing into their mind like a 5. Depersonalize - may detach from other people with frightening speed. They then move on to the attractive and new. Addiction to information, ideas, mental fantasy. Tendency to intellectualize feelings and rationalize.
The Seven style is usually generous, but this connection can bring an incongruous "cheap streak." Could pinch pennies, complain about high prices, etc. When more entranced, this can take the form of a stingy selfishness; the Seven could be talking to you about their needs even as you are feeling abandoned or let down by their broken promises. Sevens are also prone to withdrawn depressions, especially as part of a cycle of highs and lows.

Movie Sevens who demonstrate this connection: Anne Bancroft, 84 Charing Cross Road; Richard Burton, The Night Of The Iguana; Robert Duvall, Lonesome Dove; Hugh Hefner, Hugh Hefner: Once Upon A Time; Lena Olin, The Unbearable Lightness Of Being; Robert Preston, Finnegan Begin Again; Robert Redford, Out of Africa; Fred Ward, Henry And June; James Woods, Joshua Then And Now.

SUBTYPE THEMES
Self-Preservation
Self-preservation Sevens are a little confusing since they tend to be highly social. Characterized by a drive towards family and shared group experiences. Enjoy operating within their real or chosen family, checking in with a group of like-minded people. Chronic sharing on a circuit. People in the group are the source of interesting information and stimulation. Don't feel burdened or trapped by duties like a social Seven. Loyal to family, often have a 6 wing. Defend their circle and castle. Barricade, find safety in numbers. This subtype goes with the image of the "party animal." Movie examples include Auntie Mame and, especially, Hugh Hefner in Hugh Hefner: Once Upon A Time.

Intimate
Intimate Sevens tend to garnish and embellish reality with fantasy. Intimate relationships are often thought of as shared experimental adventures, and the Seven perceives their partner through a veil of imagination. May romanticize others as a way to avoid the limits and boredom of mundane life with the same old someone. Can be more involved with their fantasy of the partner than with the real person. Tentative, distractible, impersonal, may have a wandering eye. Some have great difficulty with commitment and seem fickle as they move on to the next fantasy projected onto the next new person. Don Juan scenario.
More generally, intimate Sevens have a tendency to be suggestible. They may especially seek the new with the fascinated enthusiasm of a faddist, stepping into future fantasies to avoid the present.
Good movie examples include: Julie Christie, Darling; Tom Hulce, Parenthood; Christine Lahti, Housekeeping; Karen Landry, Patti Rocks; Lena Olin, The Unbearable Lightness Of Being.

Social
Social Sevens often feel a tension between duty to others and the desire to escape. Tend to feel responsible for the people around them and experience that as a confining burden. They then react against the weight of obligation, seeking variety and craving change. When entranced, can be highly irresponsible. When awakened, they make peace with commitment and sacrifice and are often very stable and generous. Often an idealism, sometimes a stronger connection to 1. Serving something beyond themselves, dutiful. Can be from a large family where they had lots of responsibility, eldest child. With an 8 wing they tend to fight the sense of burden harder.
Movie examples include: Beau Bridges, The Fabulous Baker Boys; Cher, Mermaids; Tom Hanks, Nothing In Common; Sidney Poitier, Lillies Of The Field, James Woods, Joshua, Then and Now. Also Christine Lahti in Housekeeping, though her basic subtype is intimate.

This month we are
installing a new shopping cart to ease your ordering experience of our physical products.
In the meantime, our audio and video titles are available as instant (very inexpensive) downloads.
To order
physical products
call:
1-503-223-9117
Copyright © 1997-2010 The Changeworks